Thomas Products Flow Switches & Pump Controls
EXPLORE THE THOMAS PRODUCTS PUMP CONTROLS:
Click here to view our web catalog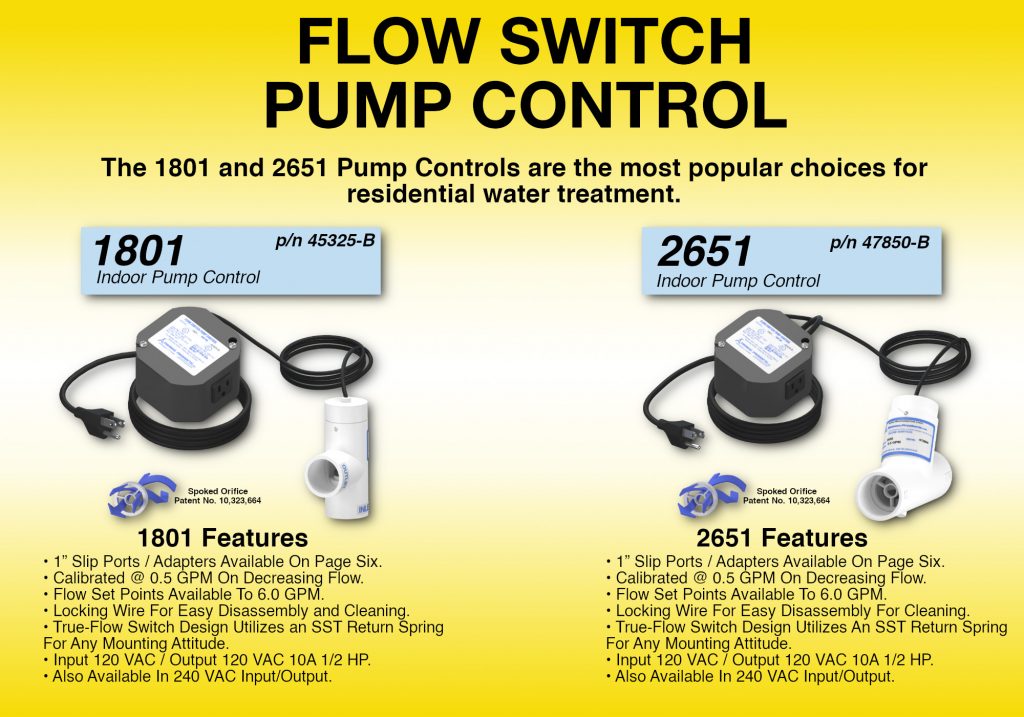 The 1801 and the 2651 are the most popular choices for residential water treatment
Thomas Products LTD delivers a product line of plug-n-play pump controls built specially for homeowners, water treatment facilities, and industrial systems requiring a way to turn on a heavy-duty motor or appliance only when water is flowing.
All pump controls feature a flow sensor and a powered outlet.
Wiring a pump control is as simple as plugging the pump control into an outlet for power and attaching your device such as a pump to the supplied junction box. The pump control features various design considerations to optimize flow sensor performance, flow detection, and high product life cycle count.
Model 1801 Pump Control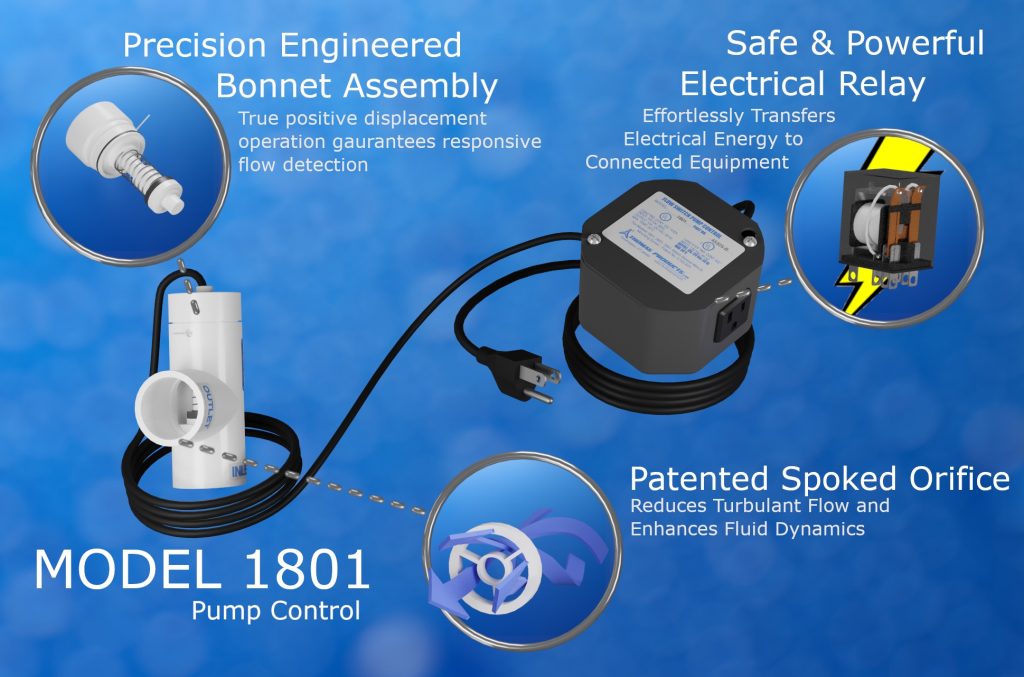 Model 2651 Pump Control
Thomas products uses a patented spoked orifice design built into the internal structure of the flow switch. This spoked orifice encourages water passing through the flow switch to have laminar flow and decreases turbulence in the line before it reaches the rest of your system. Anti-meniscus projections and running lands which are designed into the shuttle that is standard on all models of pump controls allow small particulates to pass freely and prevent the shuttle from sticking closed during long off-times.
Model 2601 Pump Control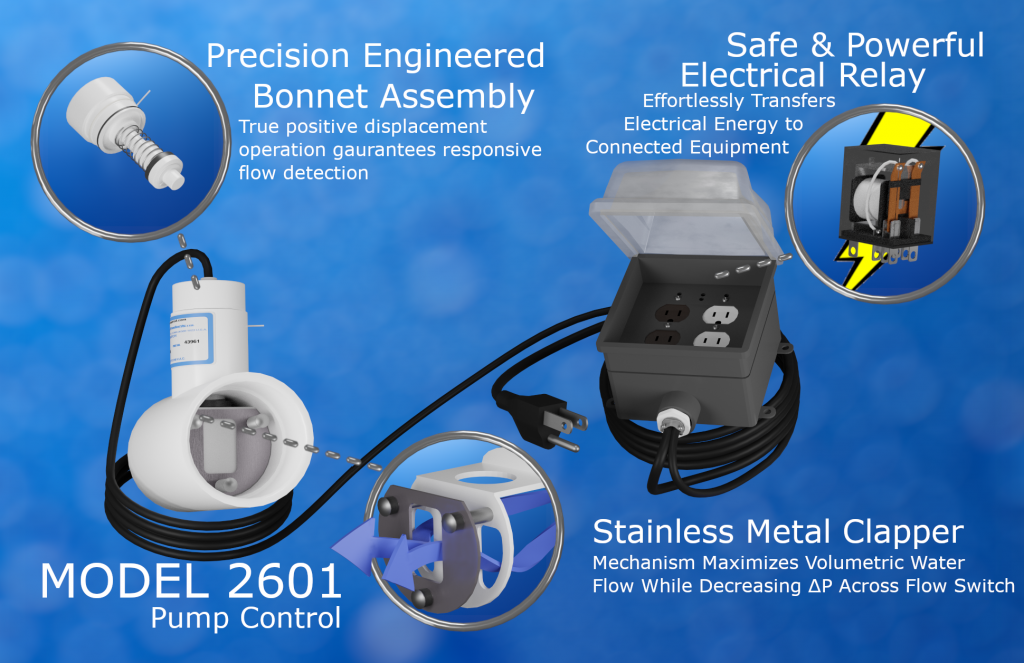 For applications demanding high flow, we have pump controls based on the 2600 series flow switch. This model of pump controls has the capacity to handle flow rates exceeding 40 gallons per minute, which is perfect for larger applications such as bigger homes, farm feed mechanisms, and hotels or water parks needing a flow sensor. It features a stainless steel metal clapper mechanism that acts as a bypass when large amounts of fluid flow through. Models with "W" in their name are suitable for installation in wet locations. They feature a water resistance enclosure with transparent cover making them suitable for use in locations where standard dry-location pump controls can't be installed.
Thomas Products Pump Controls can be used for a variety of applications including water treatment, chemical injection, or any applications requiring an appliance to be turned on when flow is present. These prewired flow sensors make it easy for you to switch on and off your peroxide or chlorination water system.  The pump controls have an easy to understand mode of operation. When liquid flowing in your line reaches the set point of the unit, the outlet on the included junction box turns on.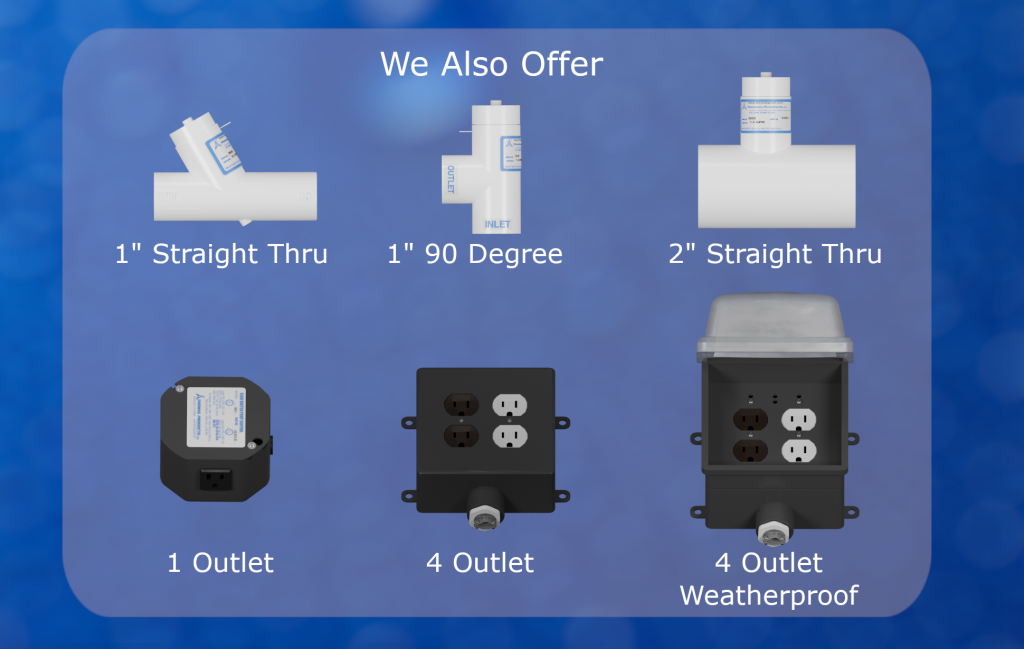 Pump Controls are offered in a variety of configurations. Depending on your requirements, we will have a prewired sensor that will fit your needs. Pump controls are offered in 120 and 240 volts AC and anything from single outlet to 4 outlet units. On 4 outlet units, 2 outlets are constantly on and 2 are actuated by the flow switch, as seen on our Model 2654 Series Pump Control. All pump control units come standard with heavy duty 10 amp relays allowing you to drive pumps and other devices up to ½ a horsepower, when used with a 120 volt device.  They are also offered also come ready to install in dry location and weather resistant locations depending on your environment. Additionally, our pump control can be built as any variation of the products we offer, as shown in the diagram below.
Switch & Switch Logic Offering: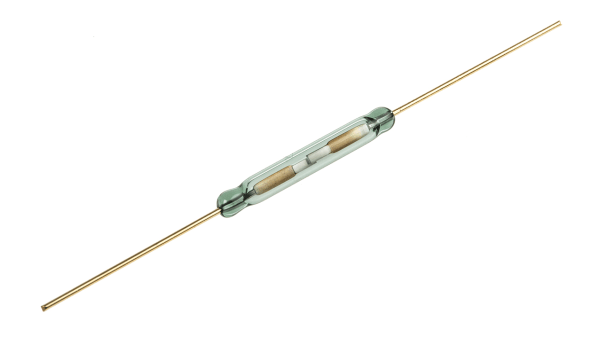 Thomas Products flow switches are magnetically actuated.
When flow is present, the magnetic assembly is displaced and actuates a reed switch. These reed switches are made to switch signal voltages on and off. They are not to be used to drive large pumps directly. To drive a pump, a ready-built Thomas Products Pump Control can be used or a flow switch can be wired to a driver circuit which handles the electrical load.
Switches can be configured to be normally open @ no flow or normally closed @ no flow, depending on your requirements. Thomas Products offers 3 different switches: 20VA SPST, 20VA SPDT, and 100VA SPST for higher wattage requirements.
The SPDT switches give you the flexibility of wiring your switch normally open or normally closed out in the field. The 100VA high wattage switches offer higher overhead for existing applications and additionally allow you to switch loads, relays, PLCs, or other control units consuming up to 100VA of power.
Click here to view our web catalog
How Flow Switches & Pump Controls work:
The Flow Switch requires flow through its internal sensing assembly. Every flow switch has a "actuation point", also called a "set point". This is the point at which the flow switch is activated. The flow switch remains in its activated state, until the flow going through the switch drops below its set point. If flow across the flow switch at any point drops below the flow set point (the actuation point), the flow switch will turn off.
Flow Switch Pump Control Installation:
COMPATIBILITY OF THOMAS PRODUCTS WITH WATER TREATMENT SYSTEM
Thomas Products pump controls are compatible with a large variety of existing water treatment and clean water systems to help you maintain proper water pH and achieve clean potable water, free of hydrogen sulfide gas. Municipally treated or city water is also compatible with our line of flow sensors. Thomas Products pump controls work with many commercially available off-the-shelf pump setups including peristaltic metering pump and Stenner® pumps.
Thomas Products are compatible with a many existing chemical feed devices, metering pumps, and water treatment products including:*
Stenner
Pulsatron
Mec-o-matic
Chem-tech
Here is an example of how a Thomas Products pump control is typically plumbed.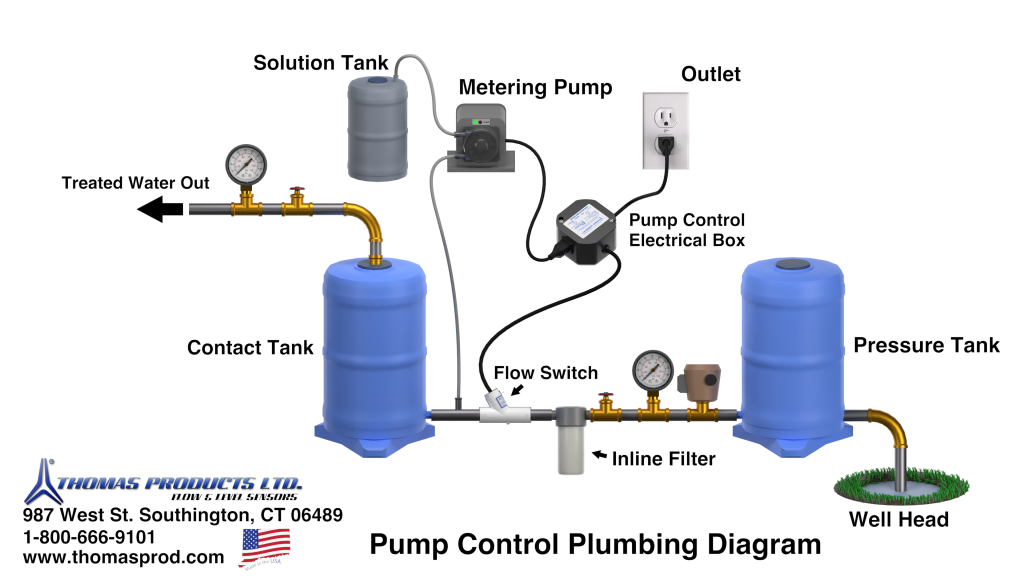 The following is an example of what is commonly done in the water treatment industry. Using a pressure switch is NOT IDEAL and can result in TOO MUCH chemical being fed into the water line. A better way to install your chemical metering pump, is using a Flow Switch, as show in the diagram above.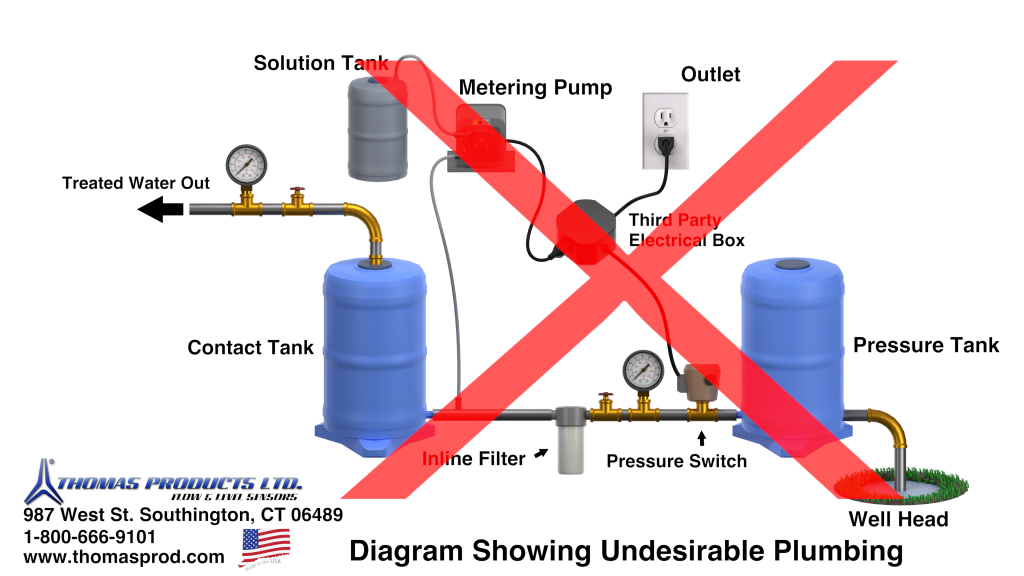 Service and Maintenance of Pump Controls: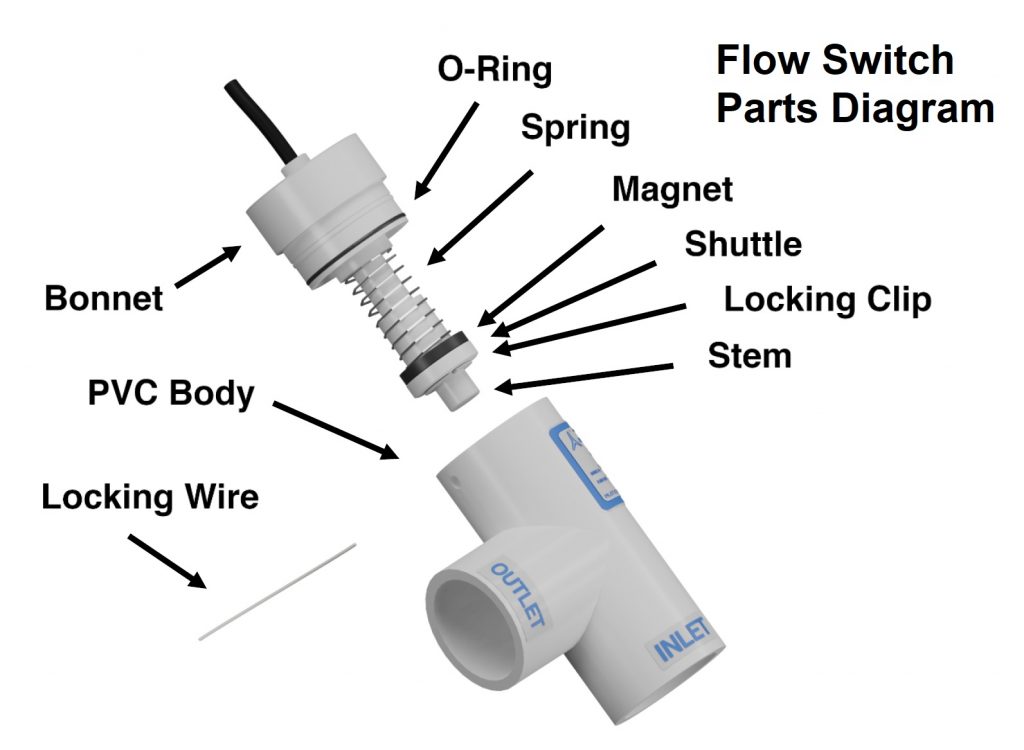 Flow Switch Disassembly and Service:

Troubleshooting:
Thomas Products Flow Switches and Pump Controls are very reliable devices that can offer years of service. Maintenance of Thomas Products Flow Switches is made to be quick and easy, to get your system running again in no time.  Not using proper filtration techniques or running certain fluid mediums through the product can shorten the usable life or inhibit the proper operation of the product. In the case of malfunction, a series of steps can be followed to get your system operational:
To Troubleshoot the Thomas Products Pump Control, all other components must be isolated to simplify the troubleshooting process. This includes disconnecting accessories/appliances like your chemical feed pumps or metering pumps.
Note: When removing the locking wire and bonnet, it may help to twist/rotate the bonnet assembly cap back and forth while pulling on the nylon locking wire. This will loosen the components and the locking wire will release more freely.
This flow diagram will walk you through the common steps in troubleshooting your flow switch or pump control.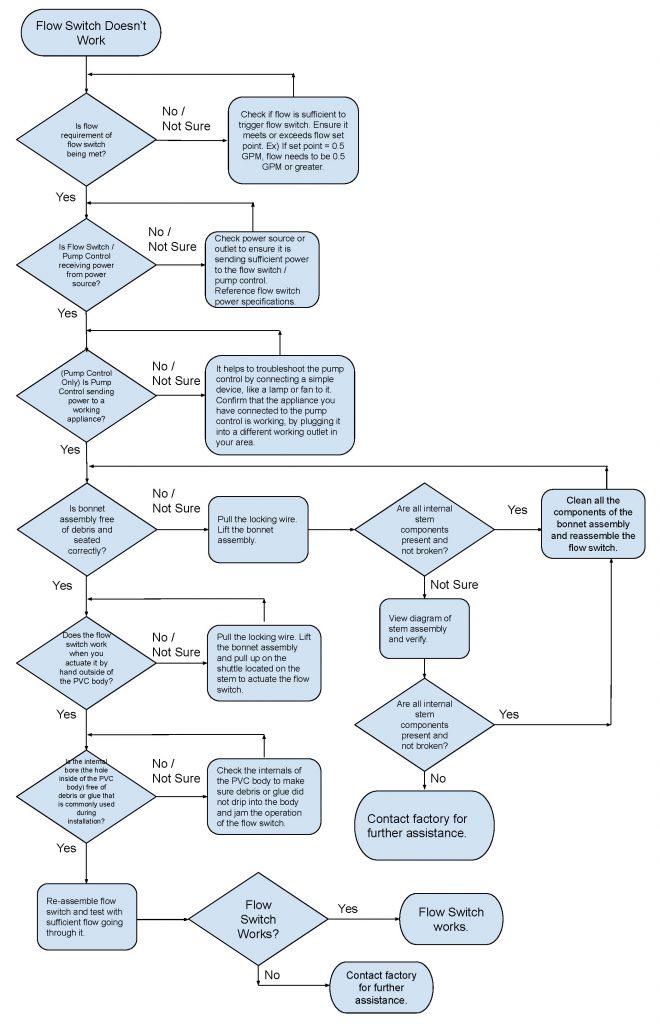 Frequently Asked Questions:
Q: How long is Thomas Products warranty?
A: Thomas Products standard warranty covers your parts for up to 1 year. You can also consult your Pump Control dealer for warranty service or replacement if it has reached end of life.
Q: What Makes Thomas Products Flow Controls the Ideal Choice?
A: Thomas Products pump controls are tested and proven to last in your water filtration system. They feature a patented design and are built to function for years. All Thomas Products flow and level sensors are sufficiently documented with maintenance and installation instructions and diagrams. Many of Thomas Products parts are UL listed, to comply with local requirements in your area. Thomas Products also offers immediate support over the phone. If you ever have question, you can reach a Thomas Products representative through our website.
Q: What type of fluids can be run through Thomas Products Flow Switches & Pump Controls?
A: We have customers running many fluid mediums including: Water, Oil, Propylene Glycol, Beer, Blood, Chlorine, and other chemicals. The type of fluid you can run through your flow switch depends on the material of the flow switch you purchase.
Q: How long until parts are shipped?
A: Standard lead time is 3-5 business days. Lead time on special parts is 2 weeks.
Q: Where can I buy Pump Controls?
A: To purchase Thomas Products pump controls, please contact your nearest water service professional and ask them if they stock our premium line of Thomas Products Pump Controls & accessories. If they don't, ask them about stocking the parts and we will make sure to expand our line of product to your local dealer. You can also purchase them directly through the Thomas Products website or calling in to place an order.
Q: I need my part serviced. How can I do this?
A: Fill out an RMA request form on our website. We will issue you an RMA #, and you can ship your product back to us.
Q: Are your products UL listed?
A: Some Thomas Products are UL listed. Check with the product for information.
Click here to view our web catalog
*Thomas Products LTD is not affiliated with the mentioned brands or products. All registered trademarks are the property of their respective owners.